I used an adapter from a company called Seriousemf, 2010 SRT front rotors and 2007 Corvette Pads (because the rotors are thicker you have to use a thinner pad.
Adapter kit (pictured with pads, but I purchased my own rotors and pads separately)
A picture of the rotors I used (slotted and dimpled). You can see they are a bit bigger then the stock R/T rotors as well as much thicker
Before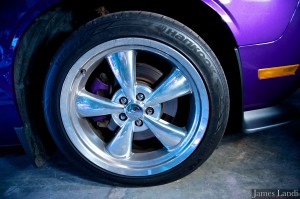 After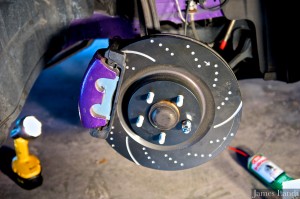 Rotors where purchased from a company called Brake Performance.  They offer lifetime warranty, free standard brake pads and free shipping.  However they don't see to sell the slotted and dimpled rotors anymore, just slotted.
updated with more part numbers and info (from another post I did a while back:
Our stock RT Challengers have a front rotor of 13.6 diameter and 1.10 thick but the SRT rotor is 14.2 diameter and 1.26 thick.  The backs rotors are 12.625 diameter and .875 thick and the SRT rotor 13.77 diameter and 1.10 thick.
Now with a very inexpensive adapter kit you can put SRT rotors on the front and Charger Police package adapters to accommodate larger rotors on the back for an all around better braking experience for about the same price to replace your rotors at your local brake shop.
With that said, the two main pieces are the adapters to fit our stock calipers to the larger and thicker rotors. So far I've ordered the two brackets:
Front: Serious Metal front kit (adapters only) Note they are an Canadian company thus exchange rates apply
Rear: Mopar Part # 5175065AB (Charger Police Package)
Once these parts arrive, I'll order the brake pads (2005 Corvette pads #PGM731),  SRT rotors (slotted and dimpled) for the front and 2007 Charger (13.77In. slotted and dimpled) rotors for the back