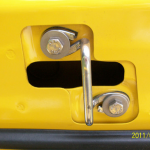 Do you like to show off your engine bay but the hood latch cause you to have nightmares because it's all scratched and banged up?  Well Dale's CUDA shop has the answer.  A Stainless Steel hood latch with matching hardware.
This replacement Stainless Steel hood latch fits 2008-2012 Challengers. Cost is $46.10 shipped via ebay
UPDATE: Dales has them on sale for $29.95 in their own web shop.
To order and more info, click here

* I'll post some before and after pictures when I receive mine.