Next mod, much better brakes without breaking the bank.
Our stock RT Challengers have a front rotor of 13.6 diameter and 1.10 thick but the SRT rotor is 14.2 diameter and 1.26 thick.  The backs rotors are 12.625 diameter and .875 thick and the SRT rotor 13.75 diameter and 1.10 thick.
Now with a very inexpensive adapter kit you can put SRT rotors on the front and Charger Police package adapters to accommodate larger rotors on the back for an all around better braking experience for about the same price to replace your rotors at your local brake shop.
With that said, the two main pieces are the adapters to fit our stock calipers to the larger and thicker rotors. So far I've ordered the two brackets:
Front: Serious Metal front kit (adapters only) Note they are an Canadian company thus exchange rates apply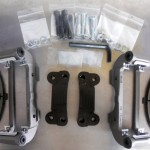 Rear: Mopar Part # 5175065AB (Charger Police Package)
Once these parts arrive, I'll order the brake pads (2005 Corvette pads #PGM731),  SRT rotors (slotted and dimpled) for the front and Charger (slotted and dimpled) rotors for the back
I'll do a step by step installation guide when all the parts arrive.